For comprehensive, trustworthy tax help in the Charlotte area, David B. Newman, LLC, is your answer. Our licensed and insured tax attorneys provide a wide range of tax services to local families and businesses. Offering 40+ years of experience, free initial consultations, and unbeatable personal attention, we do whatever it takes to produce the tax resolution outcome you deserve.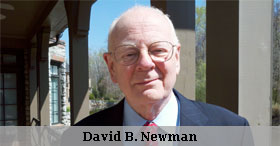 Unpaid taxes, tax penalties, and other tax problems are extremely complicated matters that require the attention of skilled professionals. Thankfully, the tax resolution specialists at David B. Newman, LLC, are here to offer expert tax help to individuals and businesses in the Charlotte area. Whether you owe a large amount of back taxes to the IRS, need help negotiating a tax settlement with the state, or are just seeking accounting services for your brand-new business, we're the team that can help. As an experienced accounting company with highly qualified tax attorneys on staff, we can help you through virtually any tax problems or financial pains you may be facing. At the end of the day, all we want is the most beneficial outcome possible for our clients. So, if you want tax assistance from a team that's genuinely caring, compassionate, and competent, contact David B. Newman, LLC, for your free initial consultation!
Your Local Source for Trusted Tax Help
David B. Newman, LLC, has been based out of Charlotte since 2010. Our clients come from all over the region, including Concord, Harrisburg, Huntersville, Matthews, Mint Hill, Mount Holly, and Rock Hill. Regardless of whether you're an individual taxpayer, head of household, or small business owner, you can count on our expert tax resolution services to keep you on solid financial ground.
Starting with our first consultation, we'll listen carefully to the tax issues you're facing and come up with a sound tax relief strategy to solve them. Our number one goal is always to create and execute a plan that will generate the best outcome based on your needs. Whether it's an IRS tax settlement, an offer in compromise, or simply annual tax return preparation, we've got you covered. When you turn to our savvy tax consultants for IRS assistance of any kind, you can rest assured you're in good hands.
Get Tax Help From Our Experienced Specialists!
The tax lawyers at David B. Newman, LLC, have 40+ years of experience in the tax resolution field. We draw on these decades of experience in order to customize tax relief plans for a wide spectrum of clients. No matter how unusual your circumstances or how complex your tax problems, our in-depth knowledge and understanding of federal and state tax codes means we'll have the optimal solution for you. Given all of our years as tax consultants, there's virtually no tax problem we haven't encountered and fixed before. So, don't be shy—call our tax attorneys today to start discussing your tax issues! 
Want more information on how our team can tailor a plan of attack for your state or federal tax problems? We're available for whatever back tax resolution or tax preparation services you need—day or night. For legal representation, bookkeeping, IRS settlements, and more, David B. Newman, LLC, is the name to know in Charlotte and beyond. Call now and schedule your initial consultation!
David Newman is an attorney admitted to practice in New York State, and he can practice tax law in the State of North Carolina.